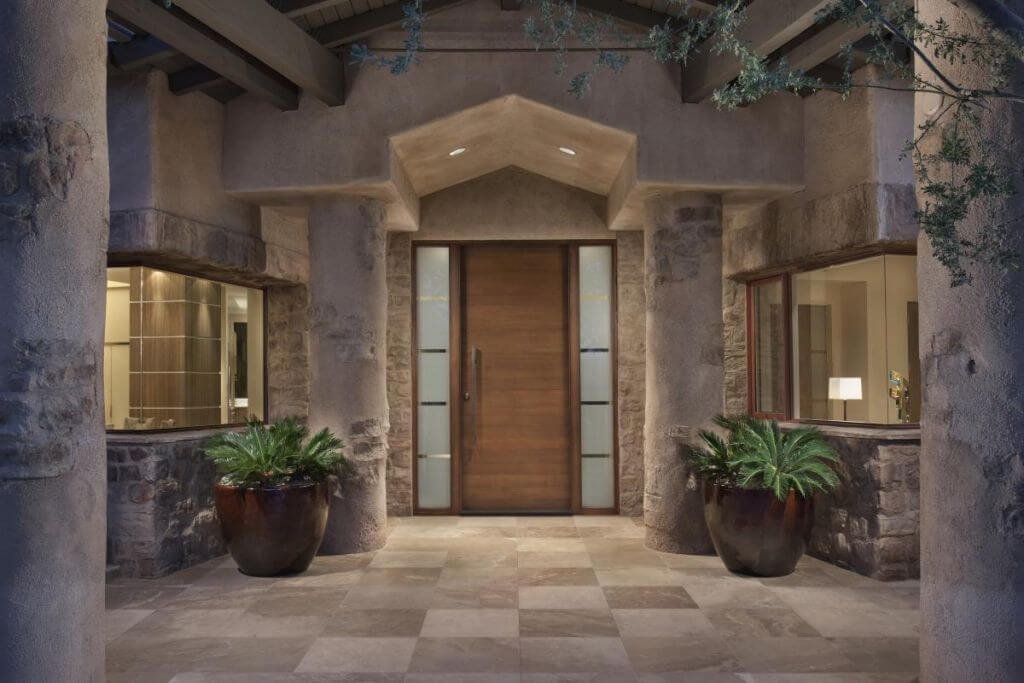 Exterior doors define a first impression, setting the tone for all that is behind them. They are the architectural element of a home's exterior that we have our most intimate and direct contact with.
But they also must stand up to the elements, especially in extreme temperature swings, cold, and the intense sun of the Tahoe/Truckee area.
When selecting an exterior door, keep these important things in mind.
Design
A well-made, durable door that says more warehouse than dream house isn't a solution. Without a design that is a congruent expression of the home, your front door has failed. If you are working with an architect or designer, they should be your first resource for door design. They can spec exterior and interior door design or recommend a custom door manufacturer.
What is good design? If your home was a book, your door must be its forward or introduction. It must embody the statement your home is making, without stealing the show.
Your builder is also a good resource. Plus, he or she will also be as concerned about quality and durability as they are about design, as they will get the first call if a problem or concern arises down the road.
But, ultimately, it is YOUR door. YOU have to love it. It must reconnect you with what your home means every time you open it to welcome friends.
Quality
Trust your builder, architect, and your designer. They regularly work with door manufacturers. And, above all, trust your instincts, you know what quality is. But do your homework on the door manufacturer. Go beyond the beautiful brochure and look at years in business, online reviews, company history, and warranty. Are they innovators or stuck in the past? Is their manufacturing process toxic or eco-friendly? Call them. Heck, go visit them; custom doors, especially full house door packages, are an investment. An investment you'll look at and touch every day. It may be worth a visit.
Durability/Material
Nobody wants a beautiful, quality exterior door that can't stand up to the weather. Durability is a function of craftsmanship and material. Hardwoods such as Oak, Walnut, and Vertical Grain Fir are considered good choices for exterior doors. Ask about heat-treated wood, a new innovation, at least in the U.S. (Europe has a long history of successfully using heat-treated wood). It does not absorb water, expand, contract or rot, which are the culprits of weathering. And ask about the stiles, rails, transoms, sidelights, and jambs. They need to be just as durable, in craftsmanship and in material.
Accenting your home with the perfect exterior door is a function of design, first and foremost, and quality, durability, and craftsmanship to assure years and years of satisfaction. Ask the professionals on your team, trust your instincts, and do your homework. And you'll find the perfect door that will last and last.
Thanks to Erin Jackson with Craftsmen in Wood for writing this article.  You can contact their showroom at The Rock at 530.582.1202, ejackson@ciwood.com, or  www.ciwood.com.