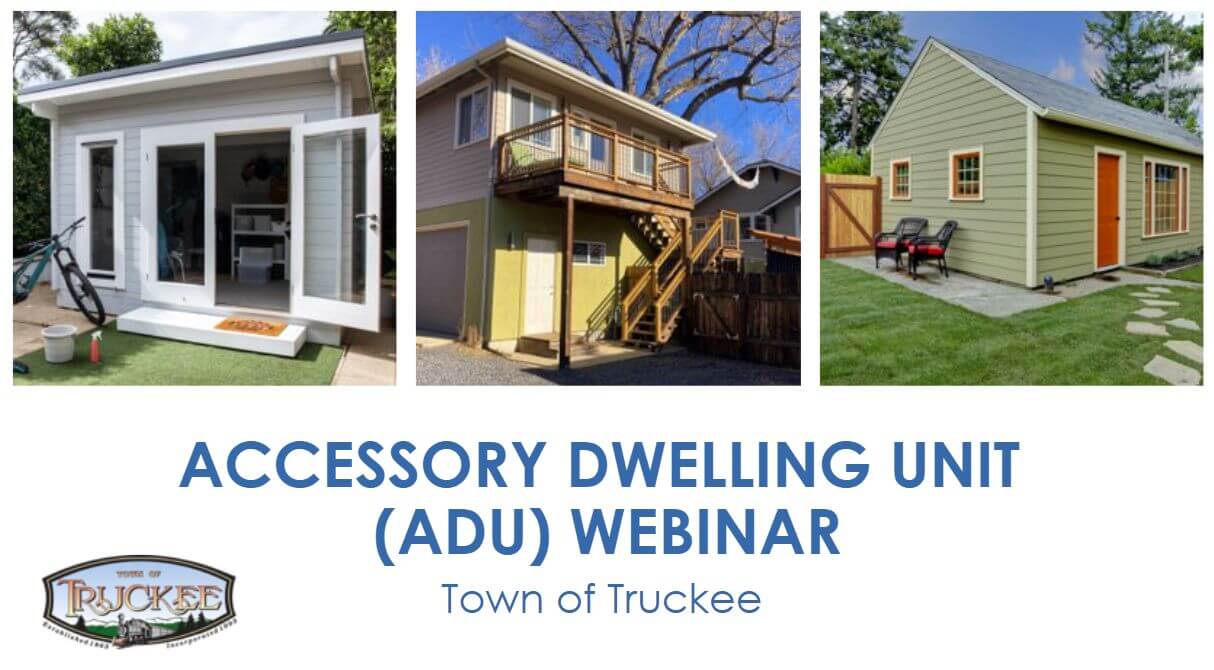 Free Town of Truckee Accessory Dwelling Unit (ADU) Webinars  for Building Professionals & Interested Homeowners
Tuesday, May 2, 2023 at 5 - 6 pm
or
Thursday, May 11, 2023 at 12 - 1 pm
Who is this webinar for?
Building industry professionals in the Truckee/Tahoe Region including: builders, designer, architects, engineers, surveyors, electricians and anyone interested in and/or currently working on ADUs who would like to understand the requirements and/or be added to the Town of Truckee ADU Vendor Directory.
People who are interested in building a new ADU, converting existing space into an ADU, or permitting an existing, unpermitted ADU
What you will learn from this webinar?
Introduction to the Town of Truckee ADU Program including funding incentives
Overview of Town ADU Codes and Standards for both new and existing units
Overview of Town ADU Permit Process
Introduction to the new, pre-approved ADU plan sets
For Building Industry Professionals - Opportunity to join Town ADU Vendor List
Participants who complete this 1-hour webinar will have the opportunity to be listed on the Town of Truckee ADU Vendor page. Please note that this is not an endorsement but simply a listing of your services and willingness to work on ADU projects in the Truckee area.
How to Register
You must register in advance to attend. You will be sent log in information for this webinar via email.
Click here to register for May 2, 2023 at 5 pm
Click here to register for May 11, 2023 at 12 pm
Click here to learn more about ADUs in Truckee